Designing a life you love is not about a diet or a magic pill. It is about supporting every area of your life–both physical and emotional–and choosing to always make the best possible choice in the given moment.

What if there was a different way?
Instead of living in a constant state of exhaustion and cramps, what if you could take control and begin a journey to pursuing a more joyful, confident, and balanced version of yourself?

And … what if you could do it on your own terms? At your own pace? What if you had everything you needed to flourish at your fingertips ...
Introducing the Happy Hormones Workshop:
The modern lady's guide to diminishing adrenal fatigue, balancing hormones and designing a thriving, stress-less life.
I'm committed to breaking down the science behind what your body is telling you, and walking you through the exact systems I put in place to not only diminish monthly cramps and exhaustion, but to regain my strength, creativity, and passion. I am giving you permission to walk away from the hustle and permission to pursue joyful, vibrant living.
Here's what you get inside my Happy Hormones Workshop:
Part One //Eliminating Stress & Flourishing with Purpose
• We'll hit the ground running with my top tips to defining stress—I strongly believe you have the power to write your own story, rather than allowing stress to write it for you, and that's what we'll cover here.
• Is your home a joyful, restful place? Do you have a lot of mental clutter? Let's talk through practical action steps you can implement today with my 10 Stress-Free Living Checkpoints.
• Learn how to ask for help, why forgiveness unlocks potential and how to stop the glorification of busy.
Part Two // Defining Hormones and Why They Matters
• Okay, but what IS a hormone? Good question! I break that down in this module.
• The 3 Focus-point Female Hormones … this isn't a lesson tailor-made for all people—it's customized for women just like YOU! I'll touch on the basics of all hormones, but ready to do a deep dive into women-specific hormones.
• The Top 2 Ways Women Have Hormone Issues—because your body WANTS to work for you, and I want to level with you about the two factors that need a tune-up.
• 7 Endocrine Disruptors, so you're aware of things that can throw a wrench in the system, and stop them before they start.
• Let's talk Estrogen Dominance, and identify the stressor points that trip you up here, too. I promise I won't leave you feeling discouraged with all the stress points—I just want you to be fully connected to what's happening in your amazing body!
Part Three // Creating a Healthy, Sustainable Lifestyle
• In Lesson 1, we'll dig into Sleep & Exercise, and how your very, VERY smart body will respond to stress, working out, and exhaustion, so your hormones can get back in sync as you treat these two positive activities well.
• Oh boy, this may be one of my favorites! Now, let's talk about How to Eliminate Toxins from Your Daily Life. Non-toxic living does matter, and I'll tell you how to manage that here.
• Cycle Syncing—get ready to live in sync with your cycle with ancient learnings … I know this may seem weird, but I want to give you helpful tips that I've learned in my own life—you'll *only* be living with for the rest of your life, and I hope these tips are helpful!
Part Four // Nourishing Food Plan
• Digestion and blood sugar should create a body environment that alerts you when it's feeding time. How dreamy does that sound? Let's get you started with tips for your Eating Environment & Snacking.
• Next, we'll chat through Hormone Nourishing Foods, because those hormones can't function at their best unless we nourish them well. I'll show you how.
• Carbs … everyone has an opinion on them, right? I'll shoot you straight with the scoop on a word that tends to get a bad rap, and give you a list of 19 Nourishing Carbohydrates to munch on.
• Ok, ready for some tough love? Let's talk about What NOT to Eat … some of these may surprise you (hint: not every coconut oil gets a green light!).
Part Five // Vitamins, Minerals and Nutrients Plan
• The vitamin aisle makes your eyebrows raise? You're normal. :) From getting Vitamin D naturally to all the other kinds of powerful cleansers your body loves, I'll give you a full list of Supplements you need.
• Next, we'll walk through Supporting Your Cycle: I'll hand over 9 things to do before you start, so you can walk into your next cycle without the whole curled-on-the-couch-wanting-to-throw-the-pillow-across-the-room charade.
Part Six // Designing a Life You Love
• Taking care of yourself so you can take care of others is so, so important. Let's chat through How to Design a Life of Flourishing, how to practice gratitude, how to find joy in your journey, and everything in between.
• Obsessing over measurements is no way to flourish, I'm here to tell you that. We'll wrap up the workshop with what success REALLY looks like, so you have a grace-filled perspective on moving forward.
PLUS, you'll also get instant access to:
• More than 12 hours of in-depth video training
• 30+ page personal, interactive workbook
• 10+ bonus topics and resources
• My favorite recipes: chocolate butter bars and happy hormone milkshake
• Instant access to our private Facebook community of #womenwhoflourish, so you can meet other women who are on the same journey of embracing their full potential.
Oh, and the cherry on top...
Let's talk BONUSES!
That's not all--we've added a few bonuses to help you unleash your potential and thrive for the future:
• Introductory 20-minute phone call with yours truly! Everyone's body is uniquely and beautifully made, and there is no one-size-fits-all solution. I'm committed to helping you personalize the Happy Hormones course to get the most out of your investment.
• The Hormone Nourishing Food Action Plan One-Pager about practical steps to help you turn daily decisions into a lifetime of habits.
• The Flourishing Daily Checklist, so you can turn your stress-less living dream into a reality with this simple checklist to support your mind, body, and heart.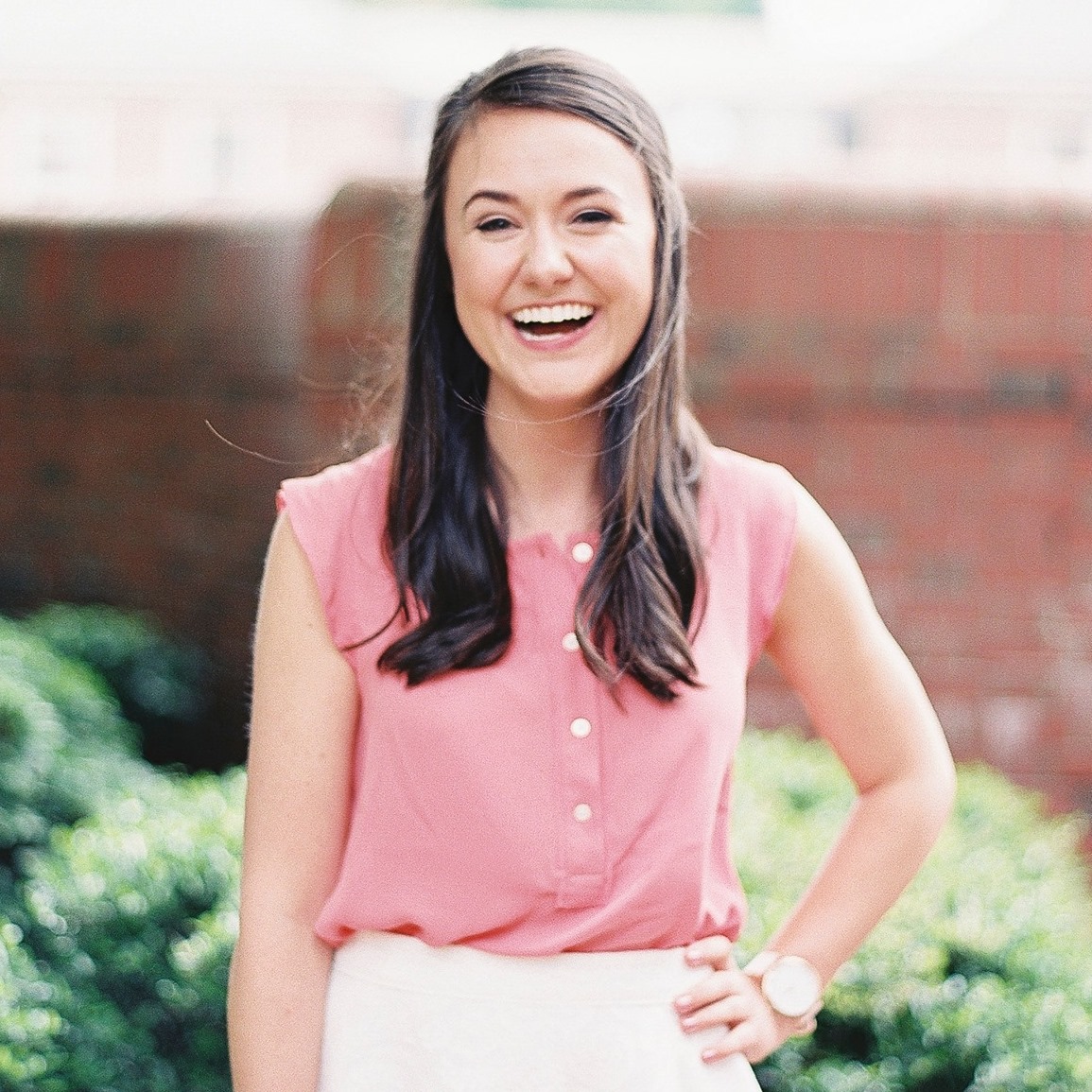 For the first time in my life, I feel confident in the decisions I'm making to take care of my body, and I'm finally beginning to flourish.
"I found myself nodding my head and saying "yes!" out loud in the introduction as Caroline went through the symptoms of adrenal fatigue, and at that moment, I knew Happy Hormones was going to change my life. Caroline goes leaps and bounds beyond any other resource out there by breaking down the science and explaining the why before ever diving into how to fix it. She meets you where you are with grace, encouragement, and full commitment to coming alongside you with the tools you need to understand your body and what to do about it. In just a few weeks of working through this course, I already feel like the very best version of myself, and I know this is going to be material I return to time and time again."
- Jess M.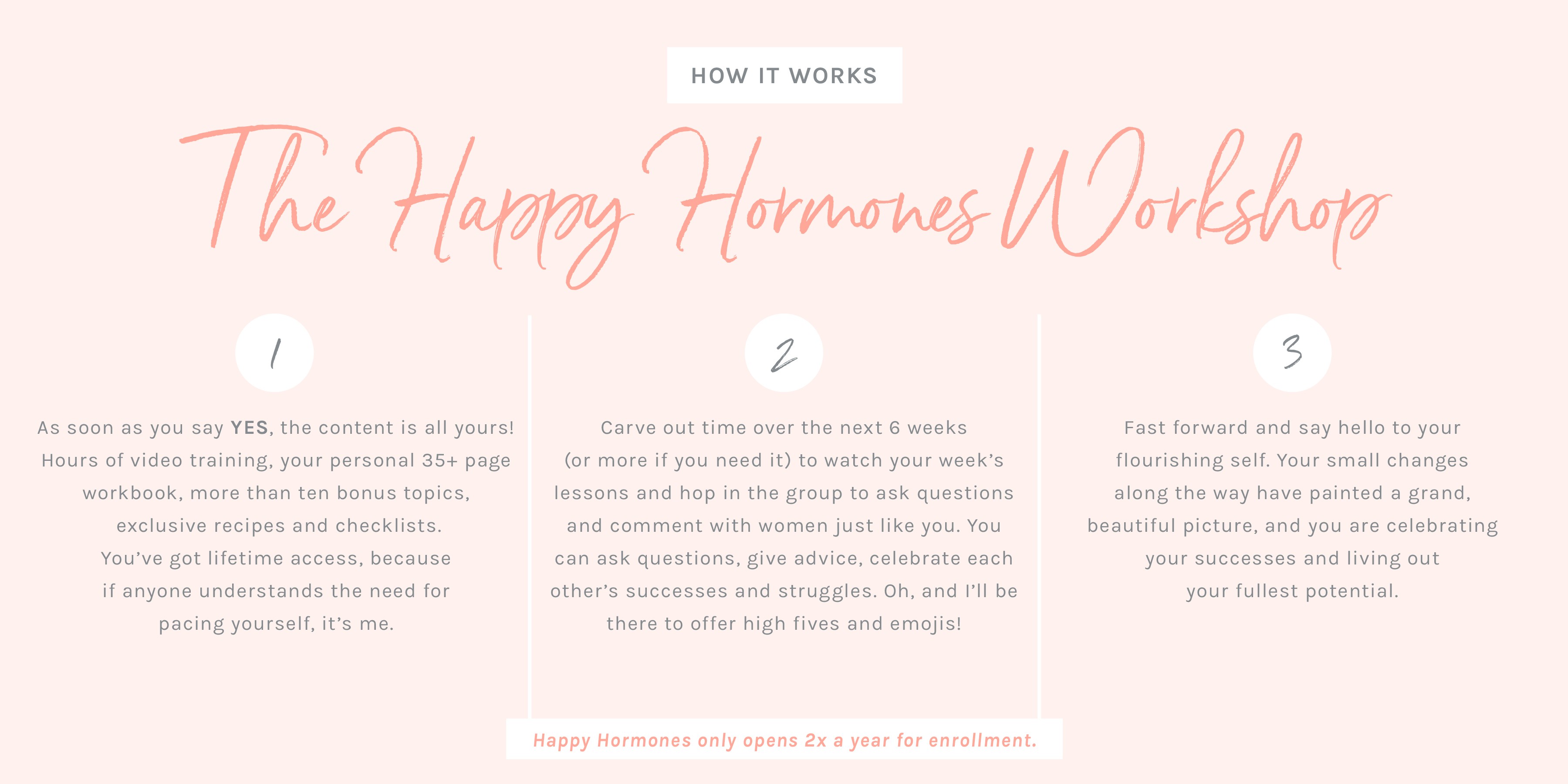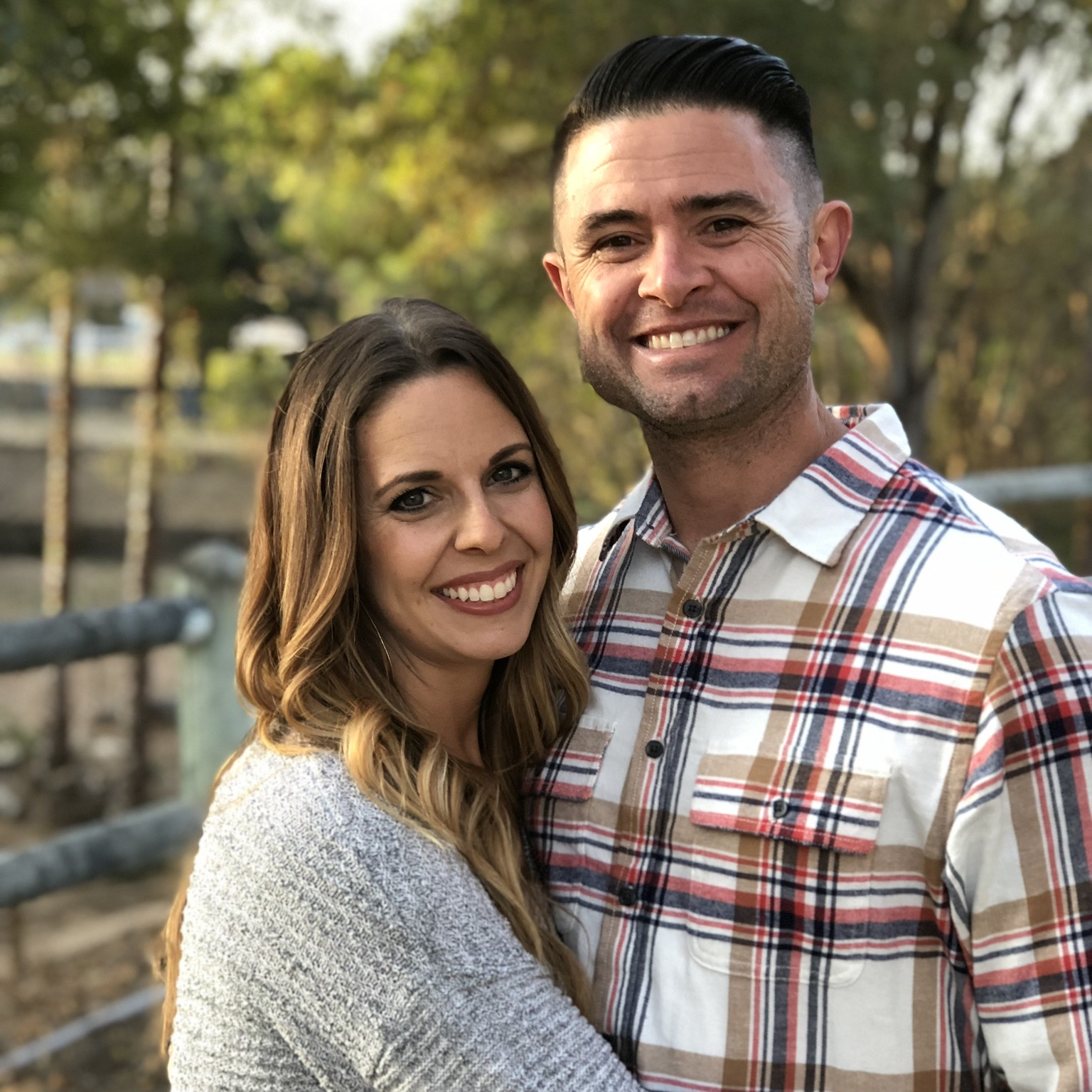 "Already in the last few weeks I've noticed a difference in my physical and emotional health by adopting a few small principles.
This program could not have come at a better time for me! As a busy homeschooling mom of four, I am always stressed, and lately I've been noticing my body telling me that. We adopted a Paleo diet about four years ago, but I'm just now learning that food is only one small portion. Everything I've learned in Flourish has helped my listen to my body and really slow down. Thank you, Caroline, for giving me incredibly useful information and tools to live my life to focus on the most important thing: my people."
- Aly B.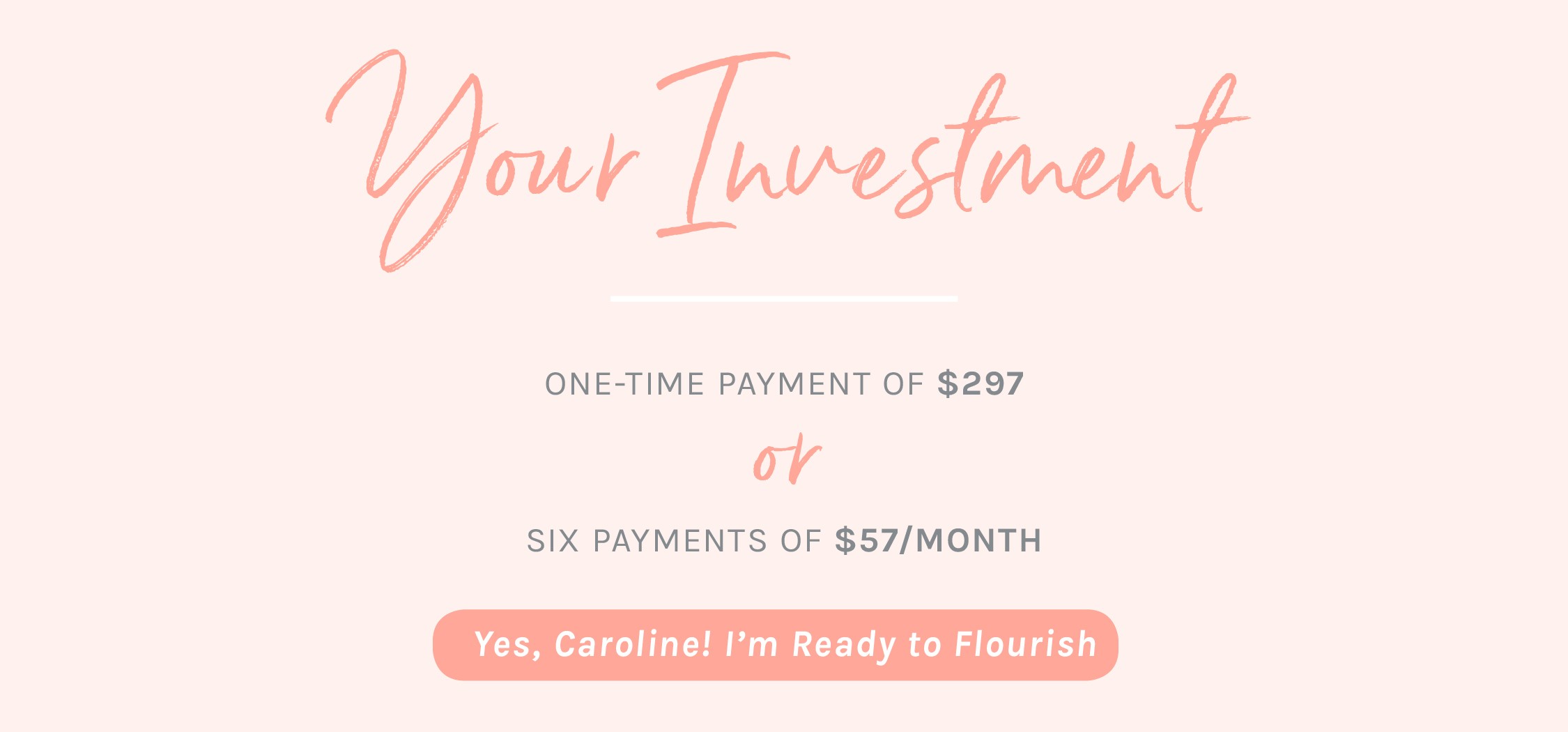 Plus, you're protected with my 100% risk-free money-back guarantee!

This program truly has the power to change your life forever—if I hadn't seen lives impacted by it, I wouldn't make such a statement … but I have, and I truly believe you can do the same. Your investment includes lifetime access, and I'm confident that if you do the work and consume the contents, you'll build a better lifestyle for yourself. And if you can't? I'll buy the program back from you—you have my money-back guarantee.
"This course is essential for every single female to get to know her body and take small, simple steps to feel her absolute best.
Caroline goes much deeper than what to eat and what supplements to take in this workshop. She teaches you about why certain foods and supplements are important and how to dig deep to find the root cause of your own symptoms and treat them naturally. This course gives you tools to create a non-toxic, stress-free life. Already I've been applying the practical steps of this course, and I've been empowered to start saying now to things that don't matter, seeing my energy level increase. The best part is Caroline is right beside you the entire time, cheering you on.."
- Christina
How to know if you're a perfect fit for the Happy Hormones Workshop:
• You're ready to abandon the lie that one more cup of coffee and tackling just a *few* more items on that never-ending to-do list is going to be worth it so you can "rest" tomorrow.
• You realize "no" isn't in your vocabulary, and you need to learn HOW to say no–not just why–in order to save your best YES for the things that matter.
• You're living in a state of brain fog, irritability, and exhaustion. Menstrual cramps, headaches, bloating, hormonal roller coasters have robbed you of the joy you used to have. You just *know* there is a better way.
• You're ready to put in the work to start living productive, fulfilled days, but you need someone to help you unpack all the details and break down those big words (looking at you hormones, HPA axis and estrogen dominance.)
• You're exhausted by the never-ending chase for perfection, and you're ready to roll up your sleeves and start chasing the real you!
Your Instructor
Hi! I'm Caroline, certified Nutritional Therapy Practitioner, author of All-American Paleo Table and host of the Colorful Eats podcast, and after living with months of brain fog and landing myself in the emergency room with unbearable menstrual cramps, I knew something had to change.
I've married my formal education as a certified Nutritional Therapy Practitioner with my personal experience living with Type 1 Diabetes, adrenal fatigue and thyroid dysfunction and I'm walking you through the exact system I put in place to not only diminish the monthly crampy and hormonal acne, but to regain my strength, creativity, and passion again.
I've experienced first-hand the effects of walking away from the hustle to take care of my body—both mentally and physically.
… and now, I want to help YOU learn how you can do the same, and start flourishing with purpose today!
Frequently Asked Questions
When does the course start and finish?
I completely understand! The course starts as soon as you click that "Start Flourishing Today" button, and it never ends! It's completely self-paced, meaning you can listen to your body and choose the best pace for your season of life.
How long do I get access to the Happy Hormones Workshop?
How does lifetime access sound? :) Once enrolled, you'll have unlimited access to this course for as long as you like–enroll across any and all devices you own to make watching easier! And because I think you're pretty great, we'll give you access to all future updates and additions to the course.
What if I don't have enough time for this?
Let me guess: you're exhausted just thinking about your already long to-do list and you're wondering how in the world you're going to be able to add an online course to the mix–I get it. Here's the deal, if you can commit to XYZ, you can leave the rest to me: I'm handing over a workbook, my favorite resources, and checklists on how to begin flourishing. My goal is to make this as easy as possible!
Do you offer refunds?
I have a tight return policy–but it's only because I want to make sure I'm attracting dedicated, serious students. I've worked so hard to make this program serve you right where you are, but I certainly understand the fear in buying something you can't fully experience before purchase. As such, by purchasing, you're agreeing to my 10-day guarantee: if you complete the first 2 sections and homework and aren't satisfied, just show me your work -- I'm happy to buy the course back from you.
Is this course about thyroid problems?
The Happy Hormones Workshop is the modern woman's guide to eliminating stress, balancing hormones, and embracing the full potential of living. It focuses on female hormones and adrenal issues. Those with thyroid issues will benefit from this course, but it does not address thyroid issues in detail as thyroid support needs to be coupled with extensive blood work..
Is this medical advice?
The workshop is not medical advice and participants should always consult with a medical professional first.
Who is liable and responsible?
As the course participate, you are completely liable and responsible. Caroline Potter, NTP, and the workshop are not responsible for any past, current or future health complications. You should always consult with a medical professional first.
Tell me about tax.
Tax is determined at checkout based on your geographic locations, and some locations may be exempt from tax. Any tax you pay is paid through Teachable.com and it's money that Caroline Potter, NTP never collects.
Still have questions?
That's what I'm here for! I'd love to chat with you, and make sure this is the right fit. Email me at
[email protected]
with questions, and I'll respond within 24 business hours. Remember, I'm located in Spain, so if you see a reply pop up in your inbox at 3am, I'm not actually working in the wee hours of the morning ;)